Fall '18 Class Reveal: Alpha Xis
This semester we crossed five new sisters of alpha Kappa Delta Phi, Tau Chapter. They are Yangji Sherpa, Jacqueline Lee, Alice Kang, Abbie Zhu, and Karen Chen. All are sophomores, and are excited to see their growth alongside the other sisters.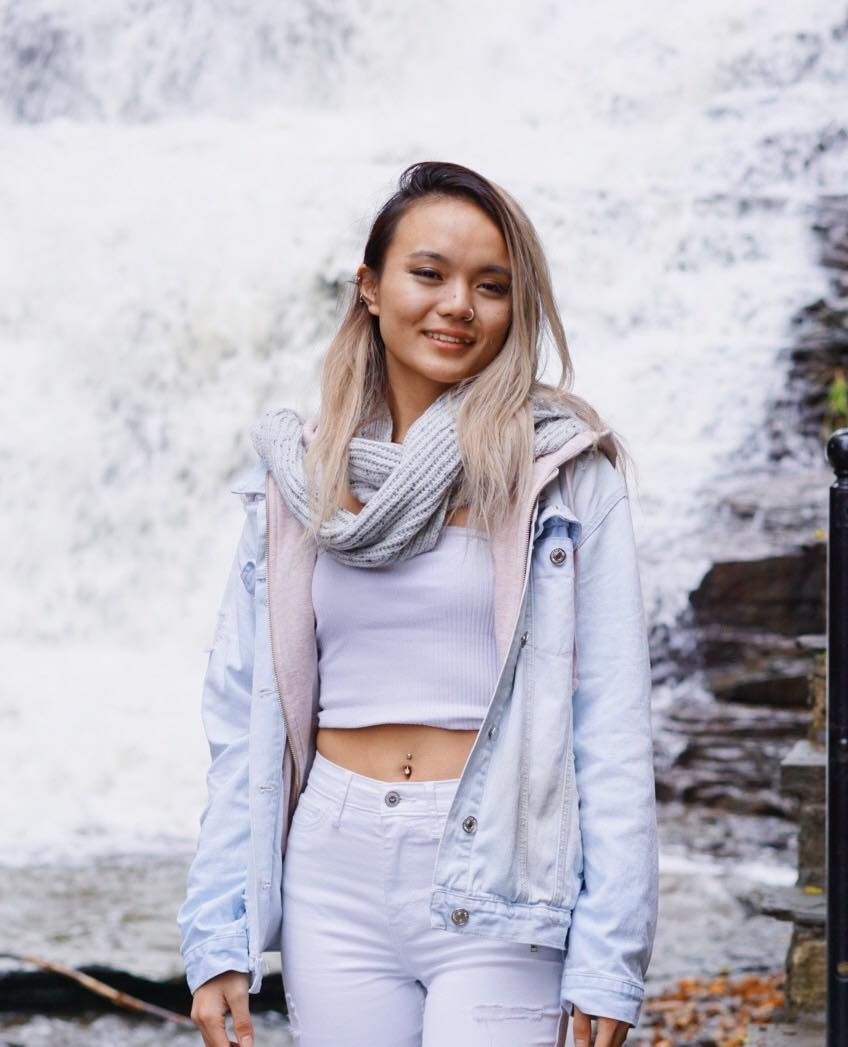 Hi, I'm Yangji Sherpa and my big is Stephanie Lin. I crossed Fall'18 (yerrr). Currently, I'm a second year at Cornell majoring in Human Development and intending to minor in "Crimes, Prisons, Educations, and Justice". I want to be a Forensic Psychologist but that's way in the future so it's subject to change I guess. Other things: I love music, hip hop and edm are my favorite genre (type basic Ik lol). I used to play a lot of sports in high school like volleyball and handball but those days are gone. Now I just shoot pool , bowl , gym , etc or just lounge around on my free time . Fun fact: I've worked at a bubble tea store since junior year of hs so I know how to make boba for all the ABGs and ABBs reading this (weird flex but ok).
Hello, my name is Jacqueline Lee and I crossed Fall 18. My big is big booty elsa. I am a sophomore majoring in Math and Economics and aspire to go into finance. In ma free time, I like to meme around, eat and play with my dog. I also like to go to the library to get nothing done and sit on the arts quad in the spring to make myself look like an intellectual thinker. Pce luv happy
Hii I'm Alice Kang and I crossed Fall'18! My big is Elaine Liu. I'm currently a sophomore at Cornell majoring in Communication, thinking of concentrating in Comm and Tech. I loove to shop, eat, swim, and travel, especially to sunny, tropical and beachy places I also grew up in Santa Monica, CA right by the beach so I'm a true Cali girl at heart loll Although I currently live in Seoul, Korea, I love visiting LA in the summer and catching up with friends while doing some super basic af things In my free time I also like to work out/run, get bbt with friends, chill out and listen to music, play with my cat, or binge watch episodes of Black Mirror (my current obsession).
Hi I'm Abbie Zhu and I crossed Fall 2018. I'm a sophomore studying Applied Economics and Management and thinking of concentrating in finance. I want to go into finance but we'll see if I can successfully turn into a snake. I'm from outside Boston but lived in Shanghai for 8 years. I'm as lazy as you can get, so I love all activities that involve minimal movement like watching dramas, eating food, and taking naps. And don't expect to catch me at the gym any time soon .
Hi, my name is Karen Chen and my big is Audrey Fan. I crossed Fall'18. I am currently a sophomore majoring in Applied Economics and Management hoping to concentrate in Strategy and Finance. I love working out and being athletic as I used to run on the cross country and track team in high school. I also love traveling so let me know if you ever need a travel/gym buddy I decided to pursue my passion in martial arts, snowboarding, and skiing coming into college. During my free times, I'm always down to get boba or just stay in and watch binge watch Netflix and chinese dramas.
Congratulations to our neos!